Once in a Blew Moon is the fifth Ask Orange video aired June 15, 2012 and a new episode on Cartoon Network.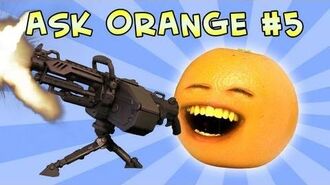 Questions
Edit
Q) Sabrionrocks - What happened to the 50 Calaber Kitchen Cannon?
A) On the counter
Q) axelhydra - Will you destroy the moon?
A) No
Q) MrsuperBDaman - What do you think is the cutest animal?
A) Alligator
Q) RetechDragonflame - Hey Orange, what's your best joke?
A) Unable to answer
Q) ITellMySecret - What's your favorite sport?
A) Motorboat
Q) rere12596 - What's it like being an orange?
A) Very Appealing
Q) lps2hip - Hey, are we cool?
A) Cool as Ice
Q) TotallyTaylor567 - Why are you so annoying?
A) Making a Spectacle of Yourself
Q) AwsomeHotDog101 - What happened to my lunch? I bet Squash can answer this.
A) If You're a Lunch Bag
Q) jrox303 - What's your favorite video you've made so far?
A) Zoom
Q) Lorenz R Campaña - Can I axe you a question?
A) If an Ax Will Chop an Apple
Q) Joyascorrea - I have a question for Marshmallow. I like unicorns. Yay!
A) Honest Answer
Q) skyskyladybug - Say "Hi, Skyler".
A) Good Answer
Q) Lkilla1997 - I just ate an entire midget apple. It was a little snack.
A) Racist Answer
Q) giladpa - What happened to dog biscuit?
A) A Driver's License for a Parallel Bark
Q) offsnake101 - Are you still going to make YouTube videos while you do your TV show?
A) True Answer
Transcript
Edit
Other Languages
Edit
Ad blocker interference detected!
Wikia is a free-to-use site that makes money from advertising. We have a modified experience for viewers using ad blockers

Wikia is not accessible if you've made further modifications. Remove the custom ad blocker rule(s) and the page will load as expected.