Two Million Knives is the tenth Ask Orange video aired January 24, 2014 promoted to Super Bowl XLVIII.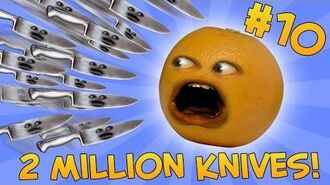 Questions
Edit
Q) sycoy baer - Make Ask Orange 10.
A) Good Answer
Q) Flurry Funkey - Hey Orange, two million knives.
A) Racist Answer
Q) Kanani Ali - Can you make Marshmallow angry?
A) If You Use Your Marker and Meet Pizza
Q) junglemanlawyer1 - In Ask Orange 10, can Knife be a Nyan cat?
A) No
Q) nelsonlandyn - Can you peel your skin?
A) Get Naked and Pretend to be Nude Dude
Q) Hebrew Account - How much long is your tongue?
A) Too Long to Ask
Q) elliottblaise - Boo. I scared you.
A) That's a Scary Question
Q) Luke Warbey - Orange, can you clone Marshmallow 2,000,000 times?
A) Yes
Q) whackogamer1 - Is this a good question?
A) Yes
Q) csaha - Hey. Hey. (Say it Twice)
A) No, Hay!
Q) monkeybladde33 - Hey Orange, do you love Passion Fruit?
A) Yes
Q) Aileen Bajaña - How many pets would you want to have and what type? A unicorn that poops rainbows or an ant?
A) If You Win a Fight to Step on It and Have Two Million
Transcript
Edit
Other Languages
Edit
Ad blocker interference detected!
Wikia is a free-to-use site that makes money from advertising. We have a modified experience for viewers using ad blockers

Wikia is not accessible if you've made further modifications. Remove the custom ad blocker rule(s) and the page will load as expected.